In order to Coach with Centennial Little League you are required to complete a Coaching Registration!!!
If you have any questions about coaching please email the Vice President.
Please Note:
We require ALL coaches (Head Coach and Assistant Coaches) to complete a registration form. The purpose behind this is that it makes this easier administratively for assigning teams for the Team Linkt app, and provides an easier communication channel. Additionally it will help us manage and maintain the Calgary Police Service - Police Information Check (PIC) and additional certifications and requirements. Thank you for you understanding!
Also - Please follow us on Facebook and Instagram as we will be announcing dates for our online Webinar/Q&A sessions around Registration and our Coaching Clinics!
What do you need to register?
Photograph of your Government Issued Photo ID.
Calgary Police Service - Police Information Check. (UPDATED - JAN 12, 2022)

If you have a current PIC in the Calgary Police Information Check System, you will need to ensure you have enabled Centennial Little League Access to your PIC. Please NOTE - PIC's are now only valid for a period of 12 Months! Due to the change in the Calgary Police System we will NO LONGER be accepting Digital Copies of your PIC's.
If you DO NOT have a current PIC, you can still register BUT you will need to get it completed before we can assign you to a team. Please email the Administrator and we will provide you with the information on how to get your PIC from the Calgary Police Service at no cost. PIC's are now valid for a period of 12 months, and it MUST be valid for the entire season. You can register without a current PIC, but you will need to update it prior to us assigning you to a team.

SafeSport Training Course Certification through the Coaching Association of Canada

You will require an NCCP Locker Account to access the training at the link above.
You will need to ensure that your NCCP# is Assigned to your Account when you register.
Your Coaching Application will update automatically when you succesfully complete the SafeSport Training.
All other Courses you choose to take using your NCCP# will also show up on your Coaching Application.

Make sure you know your hat size.
In the TeamLinkt software please make certain when you are registering as a coach you are adding yourself as the Registrant (and not your kids.) You may need to add yourself as a Family Member to your account if you have never had to use it for yourself before.
What Ages are in each division?
Review the chart below to identify your athletes League Age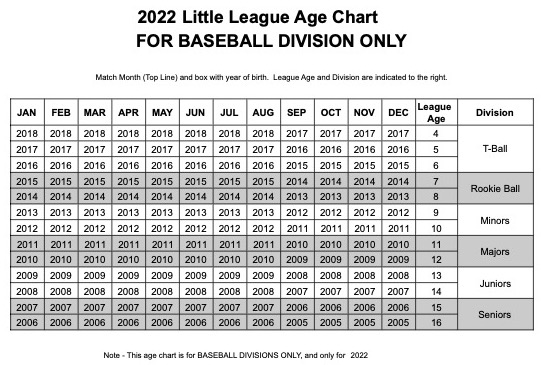 What hat size do I need?
Below you will find a sizing guide to assist you in knowing which size hat to select for your players in the Minor division and up.

Coaching Clinic
Please note - We will be holding our Annual Coaches Clinic on April 6th this year. We will circulate more information and registration information for the clinic in March.
Additionally our Coaching Development Coordinator (Jeff Brewer) will also be holding a couple of other clinics on "How to Teach/Coach Pitching" and "How to Teach/Coach Back Catchers".